Ready to get your child back from the grips of Anxiety?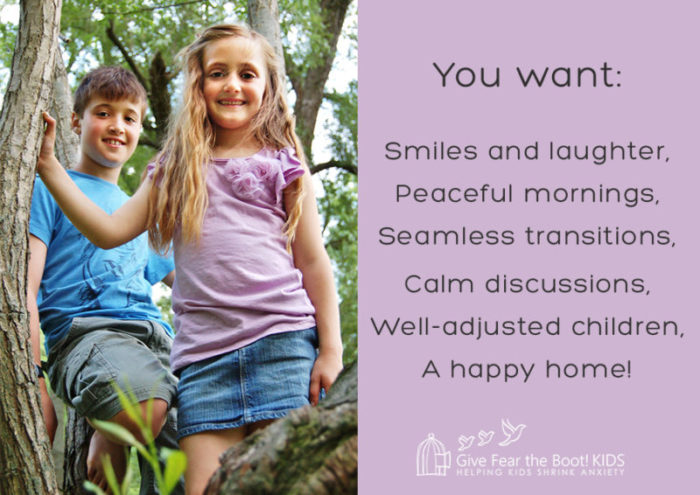 No more anxiety, worries, irrational fears and nervousness means
No more tears, no more upset stomachs, no more conflict
NO MORE digging their heels in when they need to go somewhere!
It's time to leverage your PARENTING POWER! 
👈🏽Know when to push and when to go easy,
🔑understand the key to keeping calm, 
❤️provide support, 👍🏼validate and 🍎teach essential life skills.
Worries happen. Bad things happen.
How can you help your child move past anxiety, while preparing them for the real world?
KNOW HOW TO FOCUS THEIR ATTENTION from their fears to living a happy life!
I can show you how!
Discover why your kids get anxious, gain skills to get rid of it and learn how to help them take their power back!
💪
Gain access to my 20 years of experience counseling kids with anxiety (while raising a few of my own!)
Ease your child's suffering today with my online anxiety program for kids (and for you!) called
 Give Fear the Boot!™ KIDS!
Give Fear the Boot! KIDS is a comprehensive online program with videos for parents and their children to help them recover from anxiety. When you sign up, you get everything all at once. Plus you get access to the program for life. It gives you tactical instructions on how to help your children overcome their fears and get back to having fun.  You will discover why they get anxious, gain skills to get rid of it and learn how to help them take their power back!
Watch this video for a sneak peak into the program.
Immediate access to over 20 videos, audios and fun handouts for you and your child.
Tips on what you can do Find out exactly what to do when you can't stand to see your child suffer anymore!
Kid-friendly videos featuring my baby girl, Miss Lily Aman!
To hear directly from the horse's mouth as I interview Anxiety herself!
Access to a private FB group and get support from people who know what you are going through.
To have fun and feel freedom from anxiety!
Release You and Your Child from the Grip of Anxiety!  
Register.
You'll be emailed a link to the program with your password.

Enjoy immediate access to watch, listen and review over 20 videos, audios and fun handouts for you and your child

Move forward towards having fun and feeling free from anxiety!
Easy-squeezy, fast relief – the price of a book yet so much more! 
Take a look at the exciting, guaranteed FUN-filled, titles in the program!
(Kids can watch all of the videos, but the parents' video are longer and more in depth!)
Welcome kids!
Meet Anxiety
Why do kids get anxiety?
Tapping your Anxiety away!
Anxiety's Tricks and Tactics
Lessons from Harry Potter
Finding your power!
What would it be like if Anxiety got your letter?
Welcome parents!
Where does Anxiety come from?
Understand Anxiety
Model Confidence and Calm
Externalize the worry
Teaching skills
Taking action
Dr. Zendi discusses medication and nutrition
School Anxiety
Anxiety and Anger
What to do if it comes back
To keep the price low, and because the program is delivered immediately, there are no refunds with GFB kids.
© Jodi Aman 2016