Biology of Fear Video – Get it here!
Beautiful souls who unfairly suffer from wretched anxiety,
Does anxiety take up a large part of your day? Do you worry about bad things happening to you or someone you love? Is it affecting your relationships? I want you to know that you are not alone.
I won't minimize the impact anxiety has on your life. I know first-hand how horrible anxiety feels. I'm Jodi Aman, bestselling author of You 1, Anxiety 0: Win your freedom back from fear and panic. I struggled with anxiety and panic for more than two decades. Some days I could barely get out of bed. I was scared of dying, getting sick, being in an accident – you name it; everything and anything terrified me. My panic would last for hours and sometimes for days. I avoided restaurants, social events and traveling. I often couldn't even go into work.
And look at me now…
Once I clawed my way out of anxiety and completely cured myself, I began teaching the practical steps I used for my own healing to the clients in my psychotherapy practice. They worked! More and more folks left their anxiety in the dust and were happier than they thought they could be.
During thousands of these therapeutic conversations, I continued to learn extensive details on how anxiety works and how to resist it, and I honed the map to anxiety recovery in six steps.
Did you know that 60 Millions Americans suffer from anxiety?
With so many men, women and children tormented each day, I want to spread the message of hope and healing to a larger number than the eight people a day I can see personally in my practice.
I want to help you.
Most people wait 3 to 10 years before they get any help. (Face Palm!)
Why oh why do people suffer for so long?
Because anxiety has you so exhausted and down on yourself that you don't have the energy to figure it out.
Well, I figured it out for you.
I got myself Anxiety-Free! And now I won't- no, I CAN'T- shut up about what I can show you. I can show you how to get anxiety-free, too. 
Here are the six steps I have discovered to curing anxiety, worry, and panic:
Understand it Biologically

Learn the Lies it Tells

Cultivate Your Control

Forgive Yourself

Repeat Affirmations

Practice Daily Rituals
Within these are everything that you need to know to get Anxiety-Free.
In fact, just the first step "Understand it Biologically" helps most people and may be the perfect guide to get you started on your path. I would estimate, this is all that 50% of sufferers need to get their power back. Most people are stumped by why they have anxiety. Actually this quest for the reason why you have anxiety – why anxiety happens, and what can stop it – can be very distracting. It triggers negative self-judgment, and leaves you feeling overwhelmed and worn out. Not to mention, you can get quite worried thinking that you have to know this to move forward.
Biology of Fear
When you understand what is going on and how anxiety happens, why it came into your life, and why it is so hard to get rid of, it takes the fear of the anxiety away.
And that fear is what feeds the anxiety. Fear of fear. Anxiety of anxiety. Got me? I know you do. If anxiety sustains anxiety, what if you were no longer afraid of it? You'd feel better a lot quicker. 
Let me ask you…
Do you want to get your mind back under your control?
Do you want to get your life back from anxiety?
I put together everything I know about the Biology of Fear into a training for you. It's based in science- so it is NOT woo woo, but it is completely understandable. More importantly, it is graspable, tangible, and really, really helpful. I created this training so it can help you understand anxiety. I made this simple, specific and to the point and accessible to you today. 
You know, I personally don't have the patience to hear a speaker or teacher drone on and on. I teach like I like to learn. I'm a "Just the facts, Ma'am," to the point, clear and concise – kind of teacher. You better get out your notebook and pen because my training is chock full of what you need to know about anxiety and how to get rid of it.
This world is so stressful. We've got our families, our relationships, our jobs, finances, homes, friends getting sick, horrible news every time we turn on the TV. We are entirely too stressed out. Please don't go another minute without taking care of yourself. You have to take care of yourself before you can take care of anyone else. Trust me. I know.
I was so burned out with my anxiety that I had no patience for my kids, I couldn't help my friends, I couldn't go anywhere with my husband. That was not how I wanted to live.
I tried so many things to help myself with anxiety, and it wasn't until I really figured out anxiety that things changed for me.
Today, I am offering that information to you, for the price of a latte. You can get my 20 minute training on "The Biology of Fear" including handouts and recommended exercises! In this training, you are getting what it took me to win my life back after two decades of my own anxiety and panic, and access to my experience and know-how from 20+ years of working 35 hours a week assisting and witnessing men, women and kids who have recovered from anxiety in my psychotherapy practice.
Do you want in?
Not sure yet?
Do you wonder why it is so cheap if it is that powerful? I believe this ought to be public information. Everyone should be taught this in school. I want it to be inexpensive so everyone can access it, but free doesn't work does it?
When it is free you always think that you can go later and learn it. It seems less important since it is worth less, literally, and so that is how you see it. Nobody pays attention.
(That's not totally true, I do give away a lot of free information and people do love it and it heals them. That is probably how you found me through my videos. I remain dedicated to this service. It is important to me because it is my mission to help as many people as I can!)
This "Biology of Fear" training is anything but worthless. I use 15 pages of notes to remember EVERYTHING I wanted to share while filming this training. People have told me that they have taken 20 pages of notes during this half hour training.
Here are some of the highlights included in this training.
Wondering why anxiety is such an epidemic? You'll find out why you are all-of-a-sudden noticing that your neighbor, your friends, your kids, your favorite celebrity, and your dog are all are suffering from anxiety.

Do you struggle with coping skills? We are going to take anxiety down a notch so your coping skills actually WORK!

Do you want to know what to do first? I share the brain process from trigger to recovery, so you can know when and how to intervene.
Want to know the pitfalls that stop many anxiety sufferers from getting better? I'll share what they are and how to avoid them.
Looking for the "secret sauce" to take your anxiety down a notch?

 (I'll reveal the secrets that helped me finally recover after suffering for 20 years!)
For the price of a MAG-A-ZINE?
Yep.
Now that I know what to do, I don't share my days, the night, OR my relationships with anxiety. I don't sacrifice my goals or my purpose to anxiety. Thank heavens I don't suffer anymore. I have full freedom to enjoy life on my terms.
I want you to have full immediate access to it. Hold that frappuccino for just one day. You have to get this training! When I was suffering with anxiety, I would trade 100 frappuccinos to get rid of that feeling. Heck, I would agree to never drink a frappuccino again- I was that desperate to feel better.
No I am not crazy for giving this away so cheap. I am determined to deliver you from anxiety! This quick training is how you get started.
How do you know if the "Biology of Fear" is for you?
Well, let me ask you, are you ready to get involved in things that will excite you and energize you? Are you ready to control your own life, instead of having anxiety control it? Are you ready to put your life purpose, your relationships, your JOY first in your life?
You bet you are.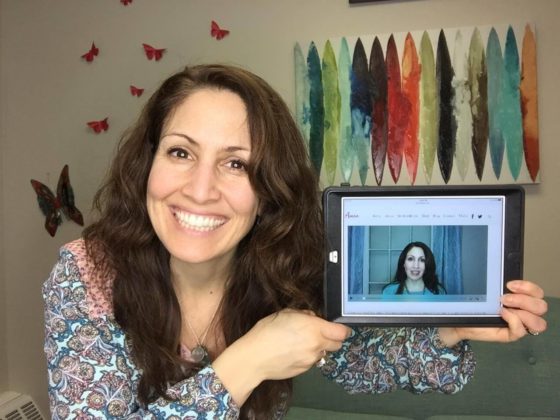 Anxiety wastes your precious time on earth and turns it into horrible suffering.
Don't lose another minute to fear and panic. 
I've already done all of the hard work, made all of the mistakes and figured out what works and what doesn't.  I've lost my footing several times along the way and fallen on my face more than a few times.
That's why I'm so careful to document what works into practical information that walks you through this first step to anxiety recovery! 
Know you don't have to do it alone, "hoping" you're taking the right steps. Here's an opportunity to "know" the right steps.
Typically the "Biology of Fear" training sells for $60, or is only included in my signature Anxiety-Free Me! – my 5 weeks online anxiety recovery program. But for a very limited time I'll let you have instant access to this training for just $7.
Literally, you can have your gourmet coffee or you can:
Finally stop wondering why you have anxiety. 

Have a faster easier way to talk yourself down from worry to panic.

Get control over your mind and body instead of it controlling you. 

Celebrate being able to do things you haven't been comfortable doing for a long time.

Actually like yourself.
Frequently asked questions:
Is this training really going to help me?
This training is the first but in my experience MOST important step in anxiety recovery. Most of my clients report a huge shift in their anxiety after learning this. Even kids recover quickly with this information. If you are parent with a child struggling, I'd love you to have this training.
Maybe you are thinking that you anxiety is not that bad, maybe this is not for you?
That's great. There are thousands of ways to recover from anxiety. Anxiety is temporary. It is always changing. We need to change it in your favor. If you are on a path that has you feeling better everyday, stay the course. If your anxiety is not that bad, manageable,  but hasn't changed in a while. Why not knock it the rest of the way out?
Is there a guarantee?
Absolutely.  A 30-day, no questions asked guarantee that you will learn something that will start to shift your thinking. This is not my full anxiety recovery program. It is JUST a first step, but it is all that most people need. It may or many not be all you need, but it is an amazing step in the right direction. 
How long will it take to receive the training?
Immediately upon your purchase, my automated system will get to work. You'll receive an email with the link to the video and a password for you to get in!