ACTIVATE! Private Group for Empaths
Set Firm Boundaries | Build Confidence | Expand your Bandwidth
Facilitated By Jodi Aman, LCSW
The ACTIVATE Group is an online Sacred Circle for Women and Women-identifying empaths. We meet every other Tuesday evening at 8 pm EST to witness each other's lives. During our live session, we tap into wisdom from the field and respond with compassion for ourselves and each other. We celebrate wins and hold each other through disappointments. It is a container for you to share what's on your heart in real-time and receive what you uniquely need.
Access 25+ years of clinical experience
Aman means "sanctuary" or "refuge."
In other languages, it means "mother" and "love."
That is just what I provide. A sacred haven where you can heal.
In my decades of helping people reclaim their lives after trauma, I have seen the mechanism of what traumatic events do to people that make them feel broken. So I know how you can replace what was lost.
Then, I guide you to raise your vibration by building trust in yourself and creating safety with your personal boundaries so you can reclaim your agency and authority.
You will feel SEEN without feeling vulnerable,
HELD without feeling stuck,
APPRECIATED without feeling like a doormat,
SAFE without feeling isolated,
and UNDERSTOOD without feeling judged.
You'll find what might be blocked, clear it, and gain a new perspective that feels good in your body. You'll understand the people around you like you never have before. Then, we'll uncover the next steps in your journey and hearten you to take them.
"ACTIVATE has provided me with so much support. I look forward to every meeting. We provide a net for one another and help each other through all kinds of situations. Jodi is compassionate and insightful. She gives us practical ways to approach our lives with new insights. I'm so grateful for this group of women!"
~Group member, School Counselor
I joined because I was feeling a lot of compassion fatigue and burnout. I was looking for skills for myself and my clients. The group is great. I like the WhatsApp chat in addition to the live calls. I am learning sustainable self-care, limit setting, and how to do rituals to support myself which I love. Thank you, Jodi, for your insight and compassion!
~Group member, Social Worker
꩜ Live Calls on Zoom with me on alternating Tuesdays at 8 PM Eastern.
꩜ WhatsApp text thread with ACTIVATE! group members to connect between sessions.
PLUS THESE BONUSES:
꩜ Recorded Guided Meditations that you can only get here!
꩜ Open access to ALL my online personal development courses (even ones not open to the public):
Jodi 2+ hours a month

$500+

COHERE: Develop your intuition 5-module comprehensive course

$329

Anxiety-free me 5-module comprehensive online course

$189

Self-care for Empaths

$29

Parenting Courses

$265

Guided Meditations

$99

Forgiveness Masterclass

$29

Clairsentience to claircognizance course

$49

Build Confidence with Strategic Affirmations course

$29
For only $79 (or $49*) a month, ACTIVATE will be a respite from your life, a gift of space that you give yourself where you can gain insight into how the world works, heal past traumas, and go forward not only happy and healthy but as a leader that lifts others as you rise. Sign up ⬇︎⬇︎⬇︎
Activate is a therapeutic, spiritual development & somatic-healing group for lovies who:
are HSP and EMPATHS.
feel sensitive and want to stop taking on the world's feelings.
would LOVE to work with me PERSONALLY.
watch my videos and say, This person gets it. She can change my life and help me change others.
are ready to heal their inner child, let go of the past, and overcome their anxiety so that it no longer controls their days.
long to ALIGN to their DIVINE PURPOSE and the joy of being fully yourself.
desire the skills that build spiritual and mental ROBUSTNESS.
need a bigger emotional and energetic bandwidth to handle personal difficulty and help their clients, children, students, and families do this, too.
wish to create a life where they feel EMPOWERED and CONNECTED.
FAQs
What will the live Zoom sessions be like?
We will start by getting centered and opening a safe and nurturing energy field, then have a mini check-in to plan our time. We then alternate members in the hot-seat listening to what is happening and providing support right into their souls. While I facilitate the conversation, you will have the opportunity to give reflections and get feedback from the group.
Will it be the same as private coaching with me?
In some ways, it can be better because the group members will be a team of people who have your back. Sometimes you can hear deep acknowledgment from them that means more than it would feel coming from me. Of course, since it is a group, the attention and depth we go for you won't be the same as individual consultations, but you will have an opportunity for personal time with me. In addition, you will get so much out of hearing other people's stories and offering support to them.
If something extra is niggling, you can book private a la carte sessions with me.
Will the videos be private?
The only people who can access to the recorded videos will be group members. No one else can see them. Group members sign a privacy contract that they will not share when they hear in the group sessions. The videos will be available for two weeks only, so that if someone has to miss one, they can catch the replay.
What is the return on this monthly investment?
When my clients clear emotional clutter, their ability to expand how they impact the people they serve translates into making more money with less effort. They simplify their business model, increase their revenue streams, learn how to get the energy field involved in what they are doing, and attract their ideal clients. It may be hard to measure living with better relationships, having increased energy, and enjoying your life more, but it is felt!
How will I know I am safe?
We are never guaranteed 100% safety. Since triggers are unlimited in variety, I couldn't possibly protect everyone from all of them. However, every member signs an ethics contract to hold them accountable for minimizing harm. There is a protocol in place for minor conflicts. And there will be zero tolerance for any bullying or harassment.
What will we be guided on?
There is no curriculum for this group. It is a support group, so members bring up the topics of conversation. And the guidance comes particularly to what is going on for them at the present moment. You will be surprised how relatable people's experiences are! Most conversations will feel helpful to you in some way. You might understand yourself or someone else better, get a tip to move through something more efficiently, or clear out a resistance plaguing you for years.
Is it spiritual?
Yes. It is hard for me to separate healing from spirituality. However, it is not a religion or denominational, exclusive of any other faiths, and not prescriptive. Rather, there is an openness to something beyond us that is Benevolent.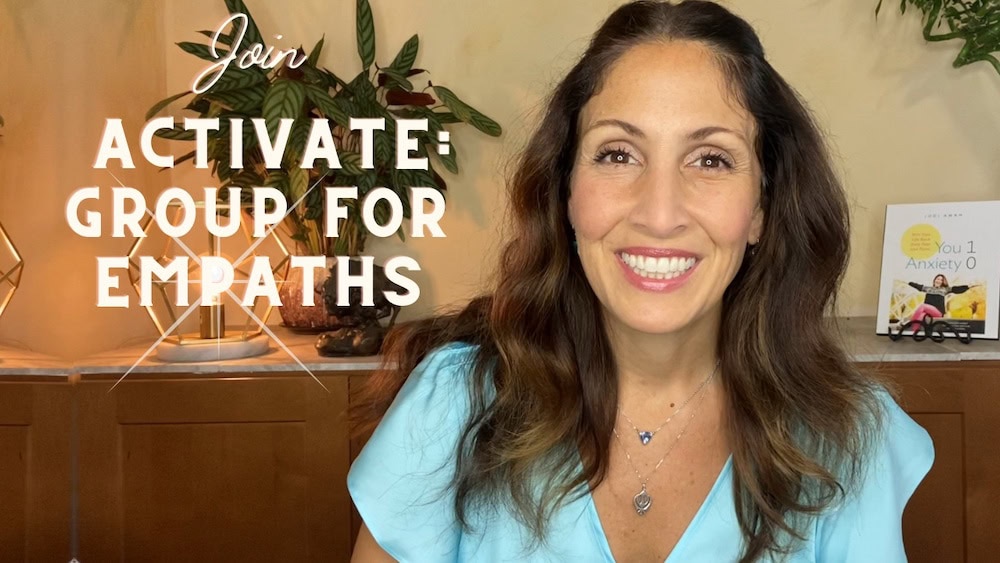 Access 25+ years of clinical experience
Heal your inner child | Learn radical self-care | Control your sensitivity | Activate your intuition | Release fear and drama | Renegotiate relationships | Improve motivation | Build robust confidence | Improve performance | Embrace joy.