It is fun to talk about boundaries! This I gots question on my Facebook page was about setting and or respecting boundaries. Check them out:
Do we need to set boundaries in our relationships? How do we do it and why? Isn't that a limitation to love? How do we know we are not crossing someone's boundaries?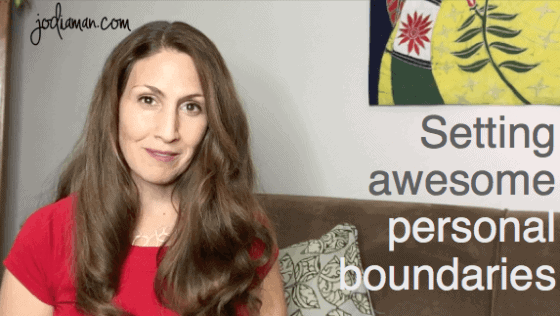 Hi Jodi, I'm wondering how you organize your schedule to choose and make time for the many things you do. I have so many interests and commitments, how can I effectively manage and prioritize them all? I like structure, but I also like having room for choices.

What to do if a friend pushes people away because of his depression; do I walk away and let him resolve his issues?
How do I handle people that are mean to me?
How do I forgive political injustice?
How do I not worry about someone going through a hard time? 
Boundaries Separate
When we think of boundaries, we think of "us" vs "them."  We understand that one thing is distinguished from another.  Boundaries, barriers, and borders are not created equal. They are not absolute but relative to each situation, which is why these questions are so hard to answer. I realize if I say one thing, I am leaving out all other possibilities. Words by their nature are dual and as a writer I can't escape the nature of words.
With that disclaimer, I will answer in a stream of consciousness…
"Need" is a definitive word, it implies that one way is right. In relative reality there is not one right way. Thinking there is one right way, leads to tons of judgment on ourself and others. Boundaries are negotiated within the relationship, what feels comfortable for one set of people is not for another set. Some people assume boundaries, and this can lead to vast misunderstandings. I prefer to negotiate them ahead. Boundaries can be limits to love, but they also can encourage mutual respect bringing people closer than they thought possible. Boundaries themselves are not barriers to love, it is the fear or guilt that block love.
Boundaries can be a skill in safety, or a barrier to relationship. It just depends. Depressed people might isolate themselves in their depression. In my opinion isolation makes things worse, so I might continue to reach out and be available, but respecting that the other person can say yes or no to it. I cannot make them decide to heal, but just offer kindness and love.  (Also see How Do We Know We Are Done Healing? which addresses our responsibility in healing others. And my video Love Instead of Worry.)
Time Limits
Negotiating time is very personal. Knowing that there is more than enough time to do everything I want to do has been important in my relationship with time. I used to lament that there wasn't enough time, and inevitably my plans were thwarted and tasks became more timely. We create our reality and I created one where I could constantly change priorities and make time for what was most important. That doesn't mean I do everything.  But I negotiate with people what I can and cannot do. This also changes from day to day, hour to hour. (i.e., I got up to help my daughter seven times during this post.) But I also have an exceptionally high work ethic, and have been working since I was 13 years old.
Breaking Down Barrier to Forgiveness
People are mean because they are so miserable that some of their misery overflows out onto others. They are usually afraid themselves or feeling guilty about something. rather than take it personally, take a step back and this might help understand why people are responding. Remember all attack is a call for love. Instead of being defensive, which they might find invalidating, respond with compassion. If they continue to be mean, you don't have to stay available, just have compassion from a distance. I wrote a post about this yesterday on Anxiety-Schmanxiety: Too Anxious to Speak Up?
Forgiveness is for you more than for the other person. Holding onto resentment for unjust political decisions does not hold the politician responsible (unfortunately). Channel rage into taking action, then let go of the rage. Use the power you have, the power of purchase to influence corporations to be responsible! See what you can do instead of being frustrated by what others are not doing.
What is your two cents?