Boundaries can make or break your emotional well-being and sometimes your physical well-being. Do you want to feel awesome instead of feeling heavy, or tired, or miserable? Set some personal boundaries!
Today's video is Part 1 of a series of five videos debunking The Five Most Common Mistakes That Keep You Suffering.
Mistake #1: Not setting awesome personal boundaries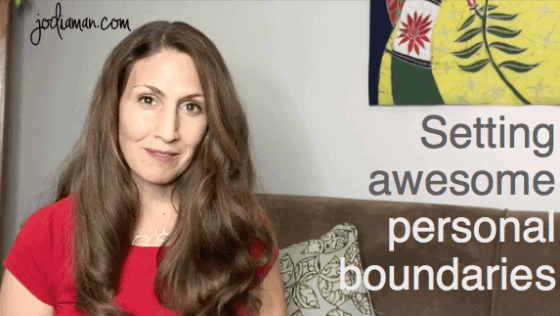 Today we are talking about what happens when we don't set personal boundaries and how we can.
When we have no personal boundaries, we let the feelings, thoughts and pasts of other people get us down. It makes us worried, stressed, and defensive. Most of the time, these things have nothing to do with us, so why should we let it push us down with an overwhelming heaviness?
Caring about others is a good thing, but taking on their stuff doesn't help either of you.
(For more on how you can love people up without worrying down, listen to my NEW interview Loving Up on Break Free with Trish Blackwell.)
All too often, we are all so concerned about making sure everyone likes us. Even if people don't give us respect, we feel like we have to go out of our way to please them.
I don't advocate for being mean, but there is somewhere in the middle.
This is what you do:
Set boundaries where you have power
The first step to setting awesome boundaries is not taking things personal.
This will make a huge difference when you are setting boundaries. It will help you stop trying to set boundaries where you have no power, and start to set boundaries where you have ALL the power.
Where do you have power, you ask? I explain it all in today's video.
Click to tweet: Set awesome personal boundaries where you have power. http://ctt.ec/hI42S+ @JodiAman #setboundaries #selfrespect
The reason we think we have to set boundaries with other people, is that we are hurt, annoyed, and bothered by what they are doing.
We can correct people who bug us, but often we come away feeling more invalidated.
What if we stopped giving other people the power to make or break our value?
What if we didn't take what they did personally?
By simply not being available for it.
If we don't take it personally, it wouldn't matter at all. It would take none of our brain space and not even hurt us.
Here's my video on why you take things personally and what to do about it.
Caveats:
Parents, you do set boundaries for your children, because you are doing so to teach them how to be better people. This distinction is because you are in a teaching role.
If you are a boss, teacher, mentor, you may be in relationships were it is appropriate to set boundaries with your charges, but this is different. It is not personal, but part of the job.
Here is your challenge for today:
Tell me about a time when you set boundaries for other people and when you have set boundaries for yourself. Did you notice any difference?
There is great power in you! Can you find it?
Look for the rest of this series: The Five Mistakes That Keep You Suffering
Mistake #2: Thinking you are different
Mistake #3: Making blanket statements
Mistake #4: Thinking you are unlucky
Mistake #5: Judging yourself