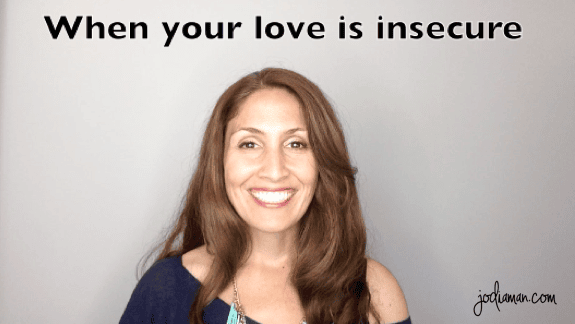 How to help your partner who is insecure
There are challenges to loving someone who doesn't love herself very much.
Not in that they are hard to love. That part is easy. When you love someone, you love them. You see his or her awesomeness and love them up.
The tricky part sometimes comes when she doesn't like herself very much. In How to get more love when you are insecure, I acknowledged that people can do some funky things when they are insecure. This can put distance in a relationship. The opposite of what everyone desires.
What do you do when your love is insecure?
How can you make her see the good that you see?
I have an idea. I have been teaching this idea for years, and people love it. It brings people together instead of disconnecting them. Everyone goes from feeling frustrated to feeling great!
Watch this video for the low down on how to work together to stop insecurity in its track.
Get out a pen and paper because we are going to make a therapeutic document.
Click to tweet: It takes more than love to help people feel better http://ctt.ec/81l6x+ #howtoloveyourself @JodiAman
If people could see me the way I see myself – if they could live in my memories – would anyone love me?
– John Green
I have been using therapeutic documents for years and have found them incredibly full of impact.
Benefits of Therapeutic Documents
1. Repetition – You think it, you write it, you see it. That's already three times. Then you plan to read it over and over. Our negative thoughts repeat themselves over and over. We need some big power to counter them.
2. Gives meaning- You know that saying, "If it's not documented, it didn't happen"? Well, there is something about writing it down that makes it real. Journaling to get things off your chest can be good. But when you use writing to write down the good things it is even better.
3. Audience – Writing things down automatically gives it witnesses. Especially when you show it to someone, but even if you don't, you have a witness (the paper, God, and you.)
Hope you enjoyed this video. Think about who in your life that you would love to have feel better about themselves. Make a commitment to bring to them this idea.
What do you do when your love is insecure? What practices do you use to reassure them?