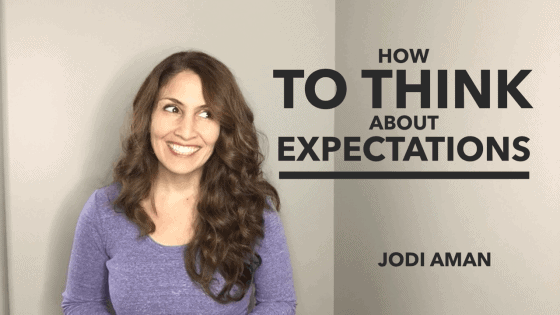 Are high expectations killing you?
We expect ourselves to be perfect. To understand and read situations perfectly. To be cool.
We expect to stay in the same size clothes. Or finally fit into smaller ones.
We expect to write beautifully.
We expect to set goals and follow through on them. Keep our house neat. Cook healthier, whole foods.
Also, we expect to stay calm and stop comparing ourselves. We expect to be happy and positive. To succeed in our business goals and save money. Stop lazing around and organize our photos! Get that house project done. Make that phone call.
We expect
To act maturely and stop taking everything so personally. To be less needy or nervous. We expect that we'll throw great parties and handle difficulties with grace. Of course, we expect that we will forgive and not let our families get us down.
And exercise daily.
We expect that we'll get everything on our list done.
And if we don't meet these expectations, then we fail. Fail. Fail.
We are a failure.
What comes next?
All kinds of negative self-talk and then a "Why bother?" or a "What's the use?"
When you begin to asks those questions, you know you are sunk.
You can still set goals for yourself and NOT drown in over-the-top expectations. Setting goals challenges us and invigorates us to live! We'd be lost and bored without them. When you say, "Why bother?" your soul shrivels a little.
We humans LOVE challenges. We even love challenges for challenge sake. Goals keep us engaged in life!
Do you know what to do when you are drowning in a pool of high expectations?
Too high of expectations? Fix it! @JodiAman https://jodiaman.com/blog/are-high-expectations-good-or-bad/
Click To Tweet
Make your goals work for you
1. Write down your goals, imbue them with energy.
Write down the little goals and tasks you do daily, even if you are going to do them anyway. That gives you more to celebrate! Crossing completed tasks off your list gives you energy for the goals that take more effort. By bringing more joy to mundane tasks, you'll have more energy to go for your life's dreams.
2. Go for them. Put your whole self in!
Don't hold back so you won't be disappointed. You won't like yourself very much if you do this. Put your whole heart and soul in so you have no regrets. Remember: Never hold back because you are too afraid of making mistakes. You learn more from mistakes than you do from anything else.
3. Celebrate and re-evaluate them!
Take them down a notch if they are too high. Change what is not working. Be flexible! You haven't failed when you change your goal to one that fits better, is achievable and more in line with what your heart is telling you. You've succeeded.
High expectations make you doubt yourself and cause worry, stress and anxiety? Do you have too much?
What goals are playing in your life right now?