When you want to know the things kids need to be happy, you have to first look at what makes them unhappy. When I gathered a teen focus group to help me come up with a title for my upcoming workbook for young people, this is what they listed as the major problems they were dealing with:
Stress, social anxiety, jealousy, self-doubt, family conflict, school problems, lack of resources, their inner critic, pain and health problems, ADHD, perfectionism, comparison, crushes, break ups, rejection, separation/divorce, cyberbullying, FOMO, invalidation, intrusive thoughts, panic attacks, isolation, two-faced peers, being made fun of and criticized.
Poor little sweet souls.
These are enough to make someone want to disappear. In fact, that is the way a lot of kids feel: Suicide is the second leading cause of death among 10 -19-year-olds. As a mom, this scares the pants off of me. I don't mean to scare you, but kids today need our help and guidance more than ever. To prevent the level of suffering that we are seeing among our young people, AND to prevent the unthinkable, we have to talk about it.
What do Kids Want?
The first thing to do is to deeply understand what kids need and want. In the same focus group, I next asked the teens what they wanted. In their words, here are their replies:
Acceptance, friends, change, love, validation, harmony, confidence, laughter, inner strength, capability, skills, to feel normal, safety, to feel wanted, worth, expand comfort zone, success, and calm.
The same things we adults want.
This group inspired me to research and reflect on my thousands of conversations with young people to figure out what it is kids…teens…basically, everyone – at any age – need to be happy. Watch my video to learn what I came up with:
Four Things Kids Need to Be Happy
---
What You Need to Be Happy:
Like all animals and plants, humans are biologically designed for survival. What helps us survive and thrive is luckily the same things that help us be happy. They are:
Acceptance – This is about people seeing your inherent worthiness, and it goes along with #2.
Belonging – You want to be part of a group so you can thrive mentally, emotionally, and physically. Alone means vulnerability.
Control – You need to connect with your personal agency.
Meaningful existence – You want a sense of purpose or a reason for living.
In the next few weeks, I am going to release new YouTube videos on what you have to do to get your kids, tweens, and teens to have each and every one of those four things they need to be happy.
I have already released the first set of videos on How To Teach Your Kids Empathy and Empathy Vs. Sympathy: Which is Better for Your Mental Health. I can't wait for you to watch them.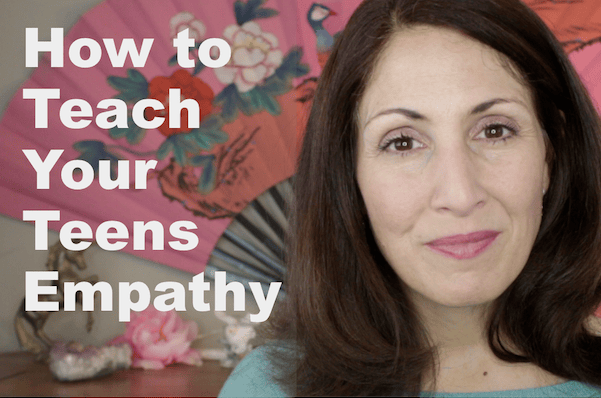 Teaching Empathy
Empathy is essential to building all four things kids need to be happy. In my newest video and blog, I go over why the skill of empathy is important to emotional wellbeing and how to cultivate it in your kids (and even in yourself!)
The companion video to this next blog is explaining the difference of empathy vs. sympathy. It is helpful to know how to apply both of these in our relationships. After you watch, let me know what you think!
Conscious parenting is hard! It's best to stick together, so we have someone to recognize our shining moments. (Because our kids sure as heck don't!) This will help sustain our patience and self-empathy for the roller coaster our kids and teens take us on, each and every day!