Back-to-school 2020 is a hot topic that has caused great debate and division on every online platform. This passion is incensed because we care so deeply about our children's mental and physical wellbeing. And the differing of opinion about what is "good" for kids and what some claim as "child abuse," runs the gamut. Without a medical degree, I won't comment on what will keep kids physically safe. (Thank goodness that is not my job to do right now. ) However, no matter what the decision your school district, and then your family makes for back-to-school, you'll also need to focus your attention on you and your child's emotional resilience. That, I can help with!
First, be gentle with yourself. Any discomfort, frustration, anger, worry, or fear you are feeling is a regular human reaction to what is happening. It is only when you validate yourself you can clear your mind to gain a new empowered perspective.
Here are 5 ways to prepare your family for back-to-school:
1. Become an empowered problem-solver.
This week, my local schools are presenting their back-to-school plans and options to families. Around the country, many districts have already uncovered plans for distance learning, choices, and hybrid models of schooling next year. In my daughter's school, there are two days a week of in-school learning and three days of distance learning. One client in New Jersey said her kids have only 6 hours a week of in-person learning. Many families around the country have decided to homeschool if their district doesn't offer options for full-time distance learning. Many of these working parents have decided to create homeschool pods so that they don't each have to create all of the curricula.
With so many creative options it is hard-pressed to think of yourself as choice-less, yet that is exactly how many of us feel. We think of ourselves as having "no choice" but instead at the mercy of someone else to make back-to-school decisions for us. (Like the school district or the governor.) This leads to feeling frustrated and powerless which is the hallmark of anger, anxiety, and panic.
However, whatever your municipality decides, it is ultimately up to you as parents to choose what you want for your family. For a robust emotional resilience remember: even if you don't love all of them, you do have choices. And when you focus on this instead of feeling trapped and stuck in the trauma of anxiety, you are able to tap into more creativity, bringing forth additional choices you didn't see before. You become an empowered problem-solver. You stop lamenting over who you cannot trust and start grounding in self-confidence and self-trust.
When the pandemic first shut everything down, we all paused our life waiting "until it was over." Now, we know we will be in it for the long-haul. We are all frustrated, bewildered, and angry this happened. But we have two categories of choices: we can get trapped in the anger and anxiety, or we can create a life within the restrictions. When you find your sovereign power to problem solve within the limits we are all faced with right now, and show your kids their ability to do the same, you will feel so much better.
Emotional resilience = empowered problem solver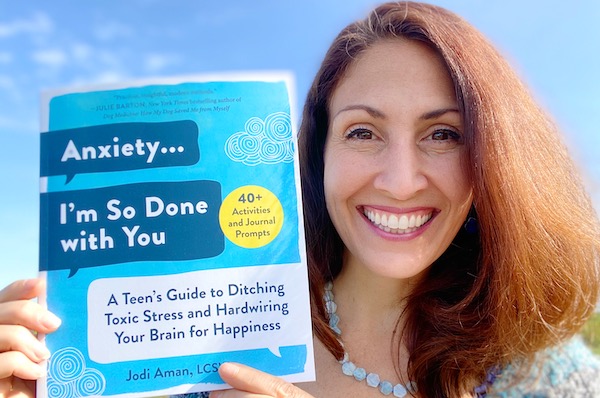 2. Prepare them
If you ask most kids if they want to go back to school, they will likely say, "yes". Kids want to get back to normal. But back-to-school Fall 2020 is going to be anything but normal!
If you choose to send your kids to in-person school, learn what you can about the school's plans for your kids' age group. Then, to prevent them from feeling shocked or overwhelmed, have them close their eyes and paint a picture of it for them. Rather than make it sounds scary, take them through a guided visualization featuring their calmness and skilled empowerment. Go over minor scenarios and problems-solve with them on how to handle them. This will give them confidence, emotional resilience, and mental readiness with a growth mindset. Focus on skills and adaptability instead of limits.
Watch my growth mindset video to help with back-to-school resilience
Be gentle with the school, too. When we are frustrated, we want someone to blame. Instead, let's just think about ourselves all on the same side! We are all doing our best and it will be far from perfect.
There are some kids who don't want to go back to school. Depending on what is making them feel that way, if you know that this environment will not be conducive to your child's learning, use that to make your decision.
3. Practice setting limits
Roleplay social distancing. Since they have mostly been with their families, most kids haven't embodied staying 6-feet apart. You'll want to practice this. Roleplaying can be a fun way to get them used to this. Make sure you laugh a lot to keep it light. Here is a funny article on going back: A lion in your classroom.
Kids are growing their kinesthetic awareness and will need to be reminded frequently to physically distance. Help your kids find the words to ask for space when other kids put them in compromising positions. Practice doing this until they feel more comfortable. If you have hidden from your kids the severity of what is happening, let them know enough now to take their precautions seriously. When they know there is something they can DO, they won't feel stuck in anxiety.
If your kids are experiencing anxiety, here are some resources.
Keep in mind that when people feel out of control, bullying increases. Just like every other year, but especially this year, make sure you speak to your kids about what to do if and when they are bullied: Get close to an adult, tell that adult, and tell you so you can decide the next steps together. 
4. Get kids comfortable with masks
Help your kids get used to and comfortable with masks by gradually increasing their time in them. Do different activities around the house with masks on so they get more and more familiar and comfortable with this new normal.
Nobody likes masks! Try not to spend energy hating the mask. This can make kids feel anxious and troubled and will exhaust them (and you). Model that you can do hard and uncomfortable things and still be safe, and they will take on that belief. (Watch my TEDxWilmington Talk.) The more they are used to masks, the more they will adapt to expressing and reading people's eye and body language to improve connection.
5. Practice good hygiene.
People typically touch their eyes, nose, and mouth constantly, present company included! And, now we need to train ourselves not to. Kids, especially if they have been home all this time, haven't had to practice this yet. Try to come up with fun ways to embody not touching your face. Set a timer and play a board game and see if your family can practice spending longer and longer periods of time having enough awareness to stop touching their faces while distracted. Even when you decrease face touching a little bit, it minimizes risk.
Back-to-school
When the kids have so much tension and stress, they can't learn the academic content. We need to help them regulate their nervous system. Wouldn't it be nice if we can all take a year off academics and just work on emotional resilience? Since that is not the plan, as a conscious parent you are the kingpin in helping your kids build emotional resilience by showing them how they are empowered problem-solvers. Remember you've got this. You have done hard things before. You can get through this, too.